6000 Natural Gas Generator (1100-1500KW)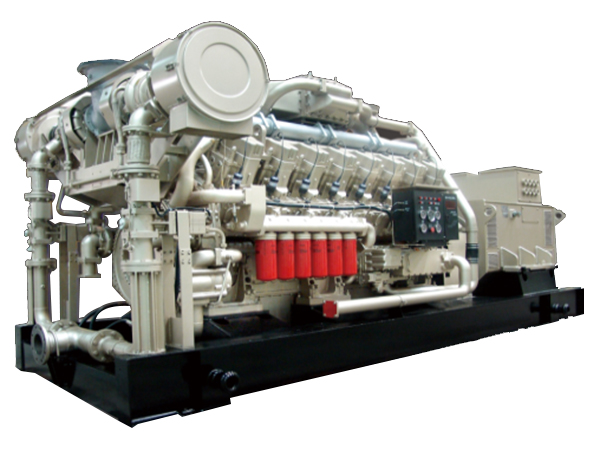 6000 Natural Gas Generator (1100-1500KW)
As our self-developed high-power natural gas generator, 6000 natural gas generator has maximum standby rating of 1500kW, which can be used in air compressor and gas generator set to address rising demand of power generation equipment for standby and prime power systems.
Features of 6000 Natural Gas Generator (1100-1500KW)
Mainstream control technology(EGS02 engine intelligent management system)
Advanted air-fuel ratio control technology(TEJCT air-fuel ratio automatic adjustmen)
High flow and high pressure intake system adapts to wider concentration changes
Low -pressure air intake and lean combustion control technology for lower pressure gas and better emissions
Advanced unit management module(IG-NT atuomatic synchronization and automatic load distribution)
Online maintainance technology (more than 2500 hours of continuous trouble free operation)
Digital monitoring techbology(full monitoring of engine thermal parameters and unit electrical parameters)
Distributed energy system(Electric-Thermal, Electric-Hot-Cool)
Technical parameters
Generating set model
1100GF-T
1200GF-T
1500GF-T
Alternator model
1FC series, Siemens technology, brushless excitation, automatic voltage control
Panel model
GP1100
GPL1200
GPL1500
Rated power (kW)
1100
1200
1500
Rated voltage (V)
480V (400/6300/10500/13800)
Rated frequency(Hz)
50/60 (optional)
Rated power factor
0.8
Type of wiring
Three-phase four-wire, star connection
Protection class
IP23
Insulation class
H
Stabilized voltage regulation
≤±2.5%
Transient voltage regulation
≤+20%(-15)
Voltage stabilization time
≤1.5 s
Fluctuation of voltage
≤1.0%
Stabilized frequency regulation
0~5%
Instantaneous frequency regulation
≤±10%
Frequency stabilization time
≤7 s
Fluctuation rate of frequency
≤0.5%
Overall dimension (mm)
6660×2335×2520
7175×2516×2540
7260×2516×2540
Weight kg
19800
23000
24000
Engine model
H16V190ZLT-2
H16V190ZLT2-2
H16V190ZLT-1
Type
Four-stroke, V-shaped, turbocharged, inlet air cooling, spark ignition,external-mixing electronic control
Number of cylinder
16
Bore (mm)
190
Stroke (mm)
215
Total displacement (L)
97.53
Rated speed (r/min)
1000
1200
Rated power (kw)
1200
1300
1600
Idle speed
700r/min
Gas pressure
100~400 KPa
Gas consumption
≤9500kJ/kW·h
Oil consumption
≤0.6g/kW·h
Exhaust temperature(before turbocharged)
≤650℃
Heat water temperature
< 85℃
Intercooling water tem.
< 45℃
Oil temperature
< 90℃
Speed regulation rate
0~5 %
Type of cooling
Water cooling, open type with cooling tower, close type with vertical radiator or horizontal radiator
Lubrication method
Press and spray lubrication
Starting method
Electric starting
Direction of rotation
Anticlockwise (facing the power output end)
CNPC JICHAI was formed in 1920, we are a prestigious brand in China and is a global leader in internal conbustion engine and generator set manufacturing. Our power solutions are designed to improve your performance and productivity.