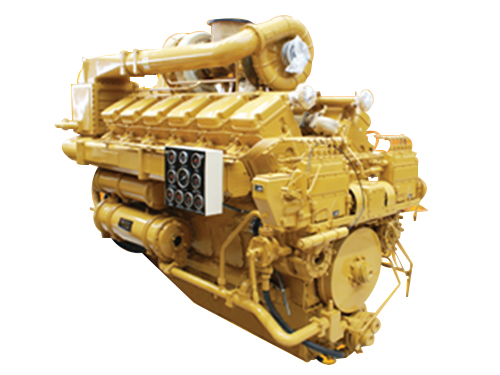 Z12VB Diesel Engine
Z12VB diesel engine with compact structure and long service life is easy to operate and maintain to fit different applications in any severe environment. It adopts new structure, quality materials and advanced technology to maintain a good technical-economic indicator. Featured with long service life, it can be operated in different kinds of harsh environment. Integrated with the innovative technology of internal-combustion engine, its excellent performance wins customer trust worldwide and has been widely used in diesel-powered equipment, construction equipment and so on.
Overall Dimension of Z12VB Diesel Engine
Parameters
Model
Basic type
Complete set engine
Z12V190B
Z12V190B-1
Z12V190B-2
PZ12V190B
PZ12V190B-1
PZ12V190B-2
Type
Four-stroke, water cooling, exhaust gas turbocharged, inlet air inter cooling, direct injection combustion chamber
No.and layout of cylinder
12-cylinder, V shape, 60° angle
Cylinder diameter (mm)
190
Piston stroke (mm)
210
Standby power (kW)
970
808
647
930
768
607
Standby speed (r/min)
1500
1200
1000
1500
1200
1000
Normal power (kW)
882
735
588
840
695
548
Normal speed (r/min)
1500
1200
1000
1500
1200
1000
Cylinder total displacement (L)
71.45
Fuel consumption (g/kW.h)
≤209.4
Oil consumption (g/kW.h)
≤1.6g
Gas exhaust temperature before turbine (℃)
≤600
Water temperature(℃)
≤85
Oil temperature (℃)
≤90
Stable rate (%)
≤8
Cooling
Pressurized water cooling
Combustion air flow (kg/s)
1.81
1.5
1.2
1.81
1.5
1.2
Exhaust flow (m³/h)
14308
11924
9539
14308
11924
9539
Oil sump capacity (L)
200
200
High temperature water capacity (L)
230
400
Low temperature water capacity (L)
30
200
Starting
Air motor or electric motor starting
Lubricating
Press and spray lubrication
Steering
Anticlockwise (facing the output end)
Dimension (mm)
2692×1560×2070
4301×1980×2678
Net weight (kg)
5300
7500
CNPC JICHAI was formed in 1920, we are a prestigious brand in China and is a global leader in internal conbustion engine and generator set manufacturing. Our power solutions are designed to improve your performance and productivity.